It Works Slimming Gummies Review – Pros, Cons, Ingredients, Research and Results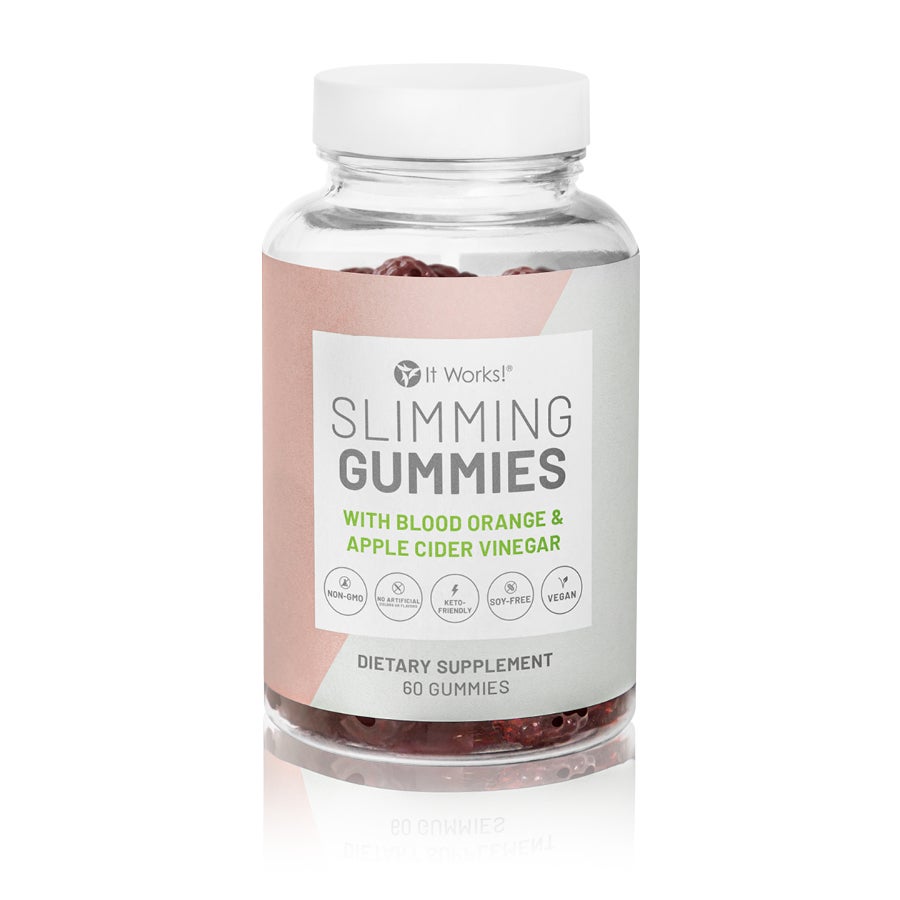 About It Works Slimming Gummies
It Works Slimming Gummies are low in calories but high in fiber, vitamins, and minerals.  The active ingredients in It Works Slimming Gummies is MOROSIL (blood orange extract) which contains high amounts of vitamin C, potassium, folate, copper, magnesium and  B Vitamins.  Additionally, MOROSIL contains several antioxidant compounds, such as chrysanthemin, hydroxycinnamic acid, caffeic acid, ferulic acid and coumaric acid. 
Pros of It Works Slimming Gummies :
High in vitamins and nutrients 

May promote weight loss

 
May boost immune function
May improve gut health
May have cancer fighting properties
May support health pregnancy
Cons of It Works Slimming Gummies :
Can cause heartburn (due to being highly acidic)

May cause acid reflux and regurgitation

Can increase blood pressure (due to high amounts of potassium)
Active Ingredients in It Works Slimming Gummies
MOROSIL (blood orange extract)
Apple cider vinegar
Clinically proven Blood Orange ingredient  (MOROSIL) :
"Blood oranges are rich in vitamin C and anthocyanins, which have distinct health advantages. Anthocyanins, red flavonoid pigments, give blood oranges their vibrant color and antioxidant benefits. Nutritionists think anthocyanins contain anti-inflammatory characteristics that prevent cancer, bacterial infections, diabetes, and heart disease. They also protect blood arteries and lower LDL cholesterol."
In a clinical study on MOROSIL (blood orange extract), it was found that MOROSIL reduced body weight, BMI, waist and hip circumferences as well as being safe and well-tolerated when paired with diet and exercise (1).
More specifically, blood oranges are rich in:
Anthocyanins

 – aids in combating free radicals and inflammation

Vitamin C

 – aids in the treatment or prevention of scurvy

Vitamin A

 – maintains the health of the skin and certain bodily tissues

Folic acid

 – aids in the prevention of some malignancies and heart disease

Calcium

 – promotes bone and tooth health
Clinically proven Apple Cider Vinegar ingredient :
According to research Apple Cider Vinegar has numerous health benefits, including antibacterial and antioxidant properties as well as potential weigh loss benefits.
There is evidence that it may have health benefits, including:
supporting weight loss
minimizing cholesterol
reducing blood glucose levels
improving diabetic symptomatology
It Works Slimming Gummies Research
MOROSIL (blood orange extract)  Research
INTRODUCTION
A clinical trial on the effectiveness of MOROSIL (blood orange extract) was performed to determine the effectiveness of blood orange extract on weight reduction and all health markers. 
ABSTRACT
98 study participants were administered 400 mg or MOROSIL (blood orange extract) or a placebo.  All participants were overweight but otherwise healthy adults aged 20 to 65 years old.  
METHOD
A clinical trial on MOROSIL and blood orange extract was performed to measure the effectiveness of MOROSIL on weight loss.  The study was organized as a single-site, double-blind, randomized clinical trial in Brisbane, Australia, over a six-month period (1).
MOROSIL was provided to participants in a 400 mg capsule, to be taken with water after breakfast.
The placebo capsule contained maltodextrin which was stored within a matching capsule and administered in the same way as the MOROSIL capsule (1).
Subjects were randomly assigned to either the placebo control group or the MOROSIL test group. During registration, participants were measured for nutritional consumption, physical measurements, blood parameters, and body composition.  Participants were also required to walk for 30 minutes three times a week and adhere to a calorie-controlled diet.
RESULTS
The MOROSIL group experienced significant changes in body weight, BMI, and waist and hip circumferences after six months of supplementation and lost more weight than the placebo group. 
Also the MOROSIL group, when compared to the placebo group, exhibited a substantial decrease in BMI, fat mass, visceral fat, abdominal fat, and waist and hip circumference after 6-months. 
Overall, the MOROSIL (blood orange extract) was found to reduce body weight, BMI, waist and hip circumferences as well as being safe and well-tolerated when paired with diet and exercise.
"Supplementation with the standardized extract may considerably help as a supplemental method in weight management regimens," the researchers conclude.
Apple Cider Vinegar Research
Numerous human studies indicate that apple cider vinegar can reduce hunger and improve feeling of satiety. This can result in consuming less calories resulting in improved weight loss.  According to one study, consuming apple cider vinegar with a high-carb meal boosted participants' feelings of fullness, causing them to consume 200–275 less calories than usual (13, 14).
Furthermore, a research of 175 obese individuals revealed that daily ingestion of apple cider vinegar was linked to lower abdominal fat and weight loss (15):
The study concluded that :
consuming 1 spoonful (15 mL) resulted in a 2.6-pound weight loss (1.2 kg)
consuming 2 tablespoons (30 mL) resulted in a 3.7-pound weight decrease (1.7 kg)
Apple cider vinegar may improve satiety, resulting in reduced caloric consumption (3).  In addition to decreasing appetite, apple cider vinegar has been demonstrated to reduce the pace at which food is expelled from the body(4).
A 2009 study found that apple cider vinegar had substantial effects on weight loss and body fat reduction (5).  In this 12-week trial, 144 Japanese people with obesity were given either 1 tbsp (15 mL) of vinegar, 2 tbsp (30 mL) of vinegar, or a placebo drink every day.
Individuals who ingested 1 tablespoon of apple cider vinegar every day saw the following benefits:
The study concluded that :
Weight loss: 2.6 pounds (lb) or 1.2 kilograms (kg)
18% reduction in body fat percentage
Waist circumference is reduced by 0.5 inch (in) or 1.4 centimeters (cm)
Triglyceride levels had dropped by 26%.
This is what happened in individuals who ingested 2 tablespoons of apple cider vinegar every day:
Weight loss: 4.2 lb (1.7 kg).
0.9% decrease in body fat percentage
Waist circumference decreased by 0.75 in (1.9 cm).
Triglyceride levels had dropped by 26%.
The placebo group gained 0.9 lb (0.4 kg), and their waist circumference rose marginally.
In a 2018 research experiment
with 39 individuals on limited calorie diets who received around 2 tbsp (30 mL) of apple cider vinegar daily for 12 weeks lost considerably more weight and body fat than those who did not use apple cider vinegar
(6).
According to this study, adding 1 or 2 tablespoons of apple cider vinegar to your diet may help you lose weight. It may also help you shed abdominal fat and lower your blood triglycerides.
**Disclaimer :  
*This website is intended to provide scientific and educational information only. These statements have not been evaluated by the U.S. Food and Drug Administration nor any other regulatory agency in any country. Manufacturers should consult with their legal counsel to confirm the appropriateness of claim language in their respective region.
Work Cited :
1. World Health Organisation. Obesity and Overweight. Available online: www.who.int/news-room/fact-sheets/detail/obesityand-overweight (accessed on 1 April 2020). 
2. Park J, Kim HL, Jung Y, Ahn KS, Kwak HJ, Um JY. Bitter orange (Citrus aurantium Linné) improves obesity by regulating adipogenesis and thermogenesis through AMPK activation. Nutrients. 2019 Sep;11(9):1988. 
3. Ballistreri G, Amenta M, Fabroni S, Consoli V, Grosso S, Vanella L, Sorrenti V, Rapisarda P. Evaluation of lipid and cholesterol-lowering effect of bioflavonoids from bergamot extract. Natural Product Research. 2021 Dec 2;35(23):5378-83. 
4. Lo Furno D, Graziano AC, Avola R, Giuffrida R, Perciavalle V, Bonina F, Mannino G, Cardile V. A Citrus bergamia extract decreases adipogenesis and increases lipolysis by modulating PPAR levels in mesenchymal stem cells from human adipose tissue. PPAR research. 2016 Jun 15;2016. 
5. Karn A, Zhao C, Yang F, Cui J, Gao Z, Wang M, Wang F, Xiao H, Zheng J. In-vivo biotransformation of citrus functional components and their effects on health. Critical Reviews in Food Science and Nutrition. 2021 Mar 9;61(5):756-76. 
6. Ahmed OM, AbouZid SF, Ahmed NA, Zaky MY, Liu H. An up-to-date review on citrus flavonoids: Chemistry and benefits in health and diseases. Current Pharmaceutical Design. 2021 Mar 1;27(4):513-30. 
7. Fallico, B.; Ballistreri, G.; Arena, E.; Brighina, S.; Rapisarda, P. Bioactive compounds in blood oranges (Citrus sinensis (L.) Osbeck): Level and intake. Food Chem. 2017, 215, 67–75. [CrossRef] 
8. Kelebek H, Canbas A, Selli S. Determination of phenolic composition and antioxidant capacity of blood orange juices obtained from cvs. Moro and Sanguinello (Citrus sinensis (L.) Osbeck) grown in Turkey. Food Chemistry. 2008 Apr 15;107(4):1710-6.  
9. Fabroni S, Ballistreri G, Amenta M, Rapisarda P. Anthocyanins in different Citrus species: an UHPLC‐PDA‐ESI/MS n‐assisted qualitative and quantitative investigation. Journal of the Science of Food and Agriculture. 2016 Nov;96(14):4797-808.